Pete'sDragonRockz's movie-spoof of 1995 Disney/Pixar film, "Toy Story".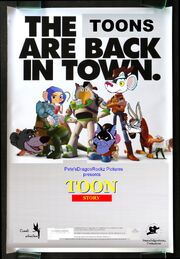 Sheriff Woody - Danger Mouse
Buzz Lightyear - Inspector Nosey (School Zone)
Mr. Potato Head - Fantomcat
Slinky Dog - Bugs Bunny (Looney Tunes)
Rex - Sidney the Elephant (Meet the Feebles)
Hamm - Baloo (The Jungle Book)
Bo Peep - Jeopardy Mouse (Danger Mouse)
Sarge - Hunter (Storks)
Sarge's Soliders - Storks (Dumbo)
Various Squeeze Toy Aliens - Fraggle Rock Characters
Chosen Squeeze Toy Alien - Wembley Fraggle (Fraggle Rock)
Andy Davis - Harry (Harry and the Bucketful of Dinosaurs)
Mrs. Davis - Harry's Mom (Harry and the Bucketful of Dinosaurs)
Sid Phillips - Angry German Kid
Scud - Peg Leg Pete (Disney)
RC - Sweetums (The Muppets)
Mr. Spell - Goofy (Disney)
Ad blocker interference detected!
Wikia is a free-to-use site that makes money from advertising. We have a modified experience for viewers using ad blockers

Wikia is not accessible if you've made further modifications. Remove the custom ad blocker rule(s) and the page will load as expected.