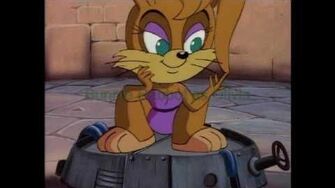 Basil of Baker Street - Elliott the Dragon (Pete's Dragon)
Dr. Dawson - Inspector Nosey (School Zone)
Olivia - Bunnie Rabbot (Sonic the Hedgehog (SatAM))
Hiram Flaversham - Bugs Bunny (Looney Tunes)
Toby - Ecco the Dolphin
Mrs. Judson - Heidi the Hippo (Meet the Feebles)
Ratigan - Dave (Penguins of Madagascar)
Fidget - Silly the Rat
Ratigan's gang - Various Animal Villains
Bartholomew - Sam the Hyena
Felicia - Mr. Big the Whale (Meet the Feebles)
Fidget disguised a a baby doll - Spike (My Little Pony: Friendship is Magic)
Barmaid - Miss Piggy (The Muppets)
Juggling Octopus - Chirp the Bird (Chirp)
Frog and Salamander on Bike - Danger Mouse and Penfold (Danger Mouse)
Miss Kitty - Jeopardy Mouse (Danger Mouse)
Miss Kitty's Sisters - Hare (Nu, Pogodi) and Tabitha Wildcat (Fantomcat)
Queen Moustoria - Tinkerbell (Peter Pan)
Piano Mouse - Animal (The Muppets)
Thugs, Sailors, and Bums - Various Human Villains
Bartender - Henry O'Hunny (Bugsz!)
Client from Hamstead - Miss Bianca (The Rescuers)
Robot Queen - Crysta (FernGully: The Last Rainforest)
Ad blocker interference detected!
Wikia is a free-to-use site that makes money from advertising. We have a modified experience for viewers using ad blockers

Wikia is not accessible if you've made further modifications. Remove the custom ad blocker rule(s) and the page will load as expected.