Pete'sDragonRockz's movie-spoof of 2016 Gramercy Pictures/Rainmaker Entertainment film, "Ratchet and Clank"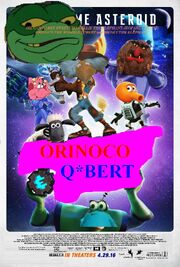 Ratchet - Orinoco (The Wombles)
Clank - Q*Bert (Wreck-It Ralph)
Qwark - Berk (The Trap Door)
Dr. Nefarious - Baron Greenback (Danger Mouse)
Chairman Drek - Oil Can Harry (Mighty Mouse)
Grimroth Razz - Sweetums (The Muppets)
Cora Veralux - Nellie the Elephant
Elaris - Jeopardy Mouse (Danger Mouse)
Victor von Ion - Sidney the Elephant (Meet the Feebles)
Brax - Roly Mo (Fimbles)
Stig - Arthur (Willo the Wisp)
Mr. Micron - Alistair (Crystal Tipps and Alistair)
Zed - Sinister Mouse (Danger Mouse)
Ad blocker interference detected!
Wikia is a free-to-use site that makes money from advertising. We have a modified experience for viewers using ad blockers

Wikia is not accessible if you've made further modifications. Remove the custom ad blocker rule(s) and the page will load as expected.