Pete'sDragonRockz's movie-spoof of "Bartok The Magnificent".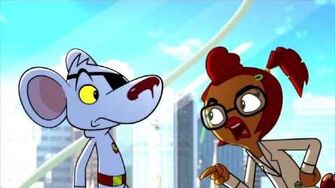 Bartok - Kermit the Frog (The Muppets)
Zozi - Fozzie Bear (The Muppets)
Baba Yaga - Professor Squawkencluck (Danger Mouse)
Ludmilla - The Princess (Danger Mouse)
Skull - Bruce (Finding Nemo)
Piloff - Tinkerbell (Peter Pan)
Prince Ivan - Adult Simba (The Lion King)
Vol - Kion (The Lion Guard)
Ludmilla's Guards - Various Animal Villains
Oblie - The Panther King (Conker's Bad Fur Day)
Dragon Ludmilla as herself
Townspeople - Various Animals
Head Cossack - Surly (The Nut Job)
Little Boy - Pip (Pip Ahoy)
Little Girl - Alba (Pip Ahoy)
Ad blocker interference detected!
Wikia is a free-to-use site that makes money from advertising. We have a modified experience for viewers using ad blockers

Wikia is not accessible if you've made further modifications. Remove the custom ad blocker rule(s) and the page will load as expected.