Pete'sDragonRockz's spoof of Robin Hood.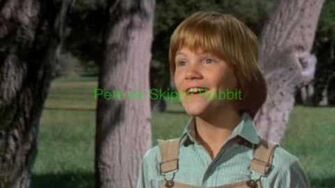 Robin Hood - Elliot (Pete's Dragon)
Little John - Orinoco (The Wombles)
Alan-A-Dale - Peter Pan
Maid Marian - Courtney (Total Drama)
Lady Kluck - Nellie the Elephant
Sheriff of Nottingham - Merle Gogan (Pete's Dragon)
Friar Tuck - Lampie (Pete's Dragon)
Prince John - Doctor Terminus (Pete's Dragon)
Sir Hiss - Hoagy (Pete's Dragon)
Trigger and Nutsy - Grover and Willie Gogan (Pete's Dragon)
Otto the Dog - Paul (Pete's Dragon)
Mother Rabbit - Nora (Pete's Dragon)
Skippy Rabbit - Pete (Pete's Dragon)
Sis Rabbit - Dawn (Total Drama)
Tagalong Rabbit - Sneezy (Snow White)
Toby the Turtle - Cameron (Total Drama)
Sexton Mouse - E.B. (Hop)
Little Sister Mouse - Yin (Yin Yang Yo!)
The Tournament Crocodile - Dave (Penguins of Madagascar)
King Richard - The Mayor (Pete's Dragon)
Rhino Guards as themselves
Wolf Arrowmen - The Bigmouths (The Trap Door) and Fruit Winders Gang (Kellogg's Fruit Winders)
Robin Hood as a fortune teller - Mira Nova (Buzz Lightyear of Star Command)
Robin Hood as a beggar man - Dudley Puppy (T.U.F.F. Puppy)
Robin Hood disguised as a stork - Junior (Storks)
Little John as a fortune teller - Madame Cholet (The Wombles)
Little John as Sir Reginald - Tobermory (The Wombles)
Executor Guard as himself
Sheepdog Archer - Pounce the Cat (Agent Foxy and Pounce the Cat)
Warthog Archer - Mittens the Cat
Pig Archer - Gene (The Emoji Movie)
Bloodhound Archer - Ferdinard the Bull
Mr. Turtle (Toby's Father) - Paul Bunyan (Bunyan and Babe)
Grandma and Grandpa Owl - Tinkerbell (Peter Pan) and Amos Mouse (Ben and Me)
Ad blocker interference detected!
Wikia is a free-to-use site that makes money from advertising. We have a modified experience for viewers using ad blockers

Wikia is not accessible if you've made further modifications. Remove the custom ad blocker rule(s) and the page will load as expected.