Pete'sDragonRockz's spoof of Aladdin.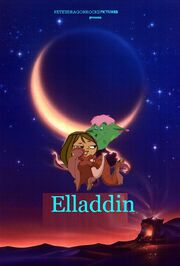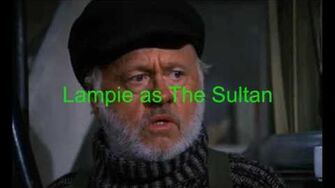 Aladdin - Elliott (Pete's Dragon)
Jasmine - Gwen (Total Drama)
Genie - Orinoco (The Wombles)
Jafar - Doctor Terminus (Pete's Dragon)
Iago - Sebastian the Fox (Meet the Feebles)
Abu - Pete (Pete's Dragon)
Magic Carpet - Tantor (Tarzan)
Sultan - Lampie (Pete's Dragon)
Rajah - Dragon (Shrek)
The Cave of Wonders as itself
Razoul - Baron Greenback (Danger Mouse)
Razoul's Guards - The Bigmouths (The Trap Door) and Fruit Winders Gang (Kellogg's Fruit Winders)
The Peddler - Kermit the Frog (The Muppets)
The Cave of Wonders as itself
Old Jafar - Pacha (The Emperor's New Groove)
Gazeem the Thief - Hoagy (Pete's Dragon)
Genie Jafar - Dave (Penguins of Madagascar)
Elephant Abu - Baloo (The Jungle Book)
Prince Achmed - Bugs Bunny (Looney Tunes)
The Three Balcony Harem Girls - Jeopardy Mouse (Danger Mouse), Hare (Nu, Pogodi) and Tabitha Wildcat (Fantomcat)
Melon Seller - Peter Pan
Apple Seller - Haybot (Conker's Bad Fur Day)
Two Hungry Children - Humphrey (Milly, Molly) and Wendy Winkle (The Cramp Twins)
'Laddie' Dog Genie - Hudson Horstachio (Viva Pianta)
Rabbit Genie - Rabbit of Caerbannog (Monty Python and the Holy Grail)
Dragon Genie - Mr. Big the Whale (Meet the Feebles)
Sheep Genie - Lamb Brusco (Zit the Video)
Old Man Genie - Lord William Spoonfull (The Pirate Thief)
Little Boy Genie - Spot the Dog and Courage the Cowardly Dog
Fat Man Genie - Bill (Numbertime)
Genie as TV Parade Host Harry - Frank (Sausage Party)
Genie as TV Parade Host June - Brenda (Sausage Party)
Leopard Genie - ???
Goat Genie - Uncle Deadly (The Muppets)
Harem Genie - Tinkerbell (Peter Pan)
Genie as Rodney Dangerfield - Wizbit
Super-Spy Genie - Flop (Bing)
Teacher Genie - Sir Daniel Fortesque (MediEvil)
Table Lamp Genie - T'ai Fu (T'ai Fu: Wrath of the Tiger)
Bee Genie - Lewis T. Duck (Charlie Chalk)
Submarine Genie - Ecco the Dolphin
Gigantic Genie - Cairngorm MacWomble the Terrible (The Wombles)
Cheerleader Genies - Camilla and the Chickens (The Muppets)
Snake Jafar - Metlar (Inhumanoids)
Camel Abu as himself
Horse Abu as himself
Duck Abu as himself
Ostrich Abu as himself
Turtle Abu as himself
Car Abu as himself
Toy Abu - ???
Rajah as Cub - ???
Woman at the Window - Miss Monkfish (The Cramp Twins)
Ladies Laughing at Aladdin - Popcorn Penny (Cinemark), Scarlett Johamster (Danger Mouse) and Twilight Sparkle (My Little Pony: Friendship is Magic)
Three Balcony Harem Girls' Mother - Delilah Greenback (Danger Mouse)
Necklace Man and Woman - Captain Blueboar and Ma Bear (The Muppets)
Fat Ugly Lady - Mrs. Brisby (The Secret of NIMH)
Two men watching Prince Achmed - Zig and Zag
Pot Seller - Aero the Acrobat
Nut Seller - Havoc (High Seas Havoc)
Necklace Seller - Ristar
Fish Seller - Gex
Fire Eater - Jersey Devil
Boy wanting an apple - Tip the Mouse
Genie's Three Dancing Girls - Gadget Hackwrench, Tammy and Foxglove (Chip 'n' Dale Rescue Rangers)
75 Golden Camels - ???
53 Purple Peacocks - ???
Exotic-Type Mammals - ???
95 White Persian Monkeys - ???
60 Elephants as themselves
Llamas as themselves
Bears and Lions as themselves
Brass Bands as themselves
Forty Fakirs as themselves
Cooks and Bakers as themselves
Birds that Warble on Key as themselves
One of Flamingos - ???